Welcome to the Original Doll Creations Webring Home Page!
I decided to create this webring one day when I had been surfing on the net and viewing all of these wonderful pages of totally original or edited base cartoon dolls! So I decided why not and created this webring you have come to check out today!
If you have come to sign up for the webring I have a few tiny rules that your site must go by before submitting, ok?! *ahem*

First, you site must have something to do with the creation of cartoon dolls not just links
Your creations must be original and may include bases and/or templates that are edited or created from scratch. They MUST be your own work!
No sites with adult content, ie-nudity of any kind will not be accepted. They must rated G.
Hence, your site must not have any relation or content referring to racism, sexism, hate material, warez or anything illegal.
You have TWO weeks to get your ring code up on your site from the date of application, if no code is up by then you will get one warning only and then if there still is no code up then your site will not be submitted.
Acceptance of any web site is up to the discretion of the ring mistress, so if you site was not approved please do not email me asking why.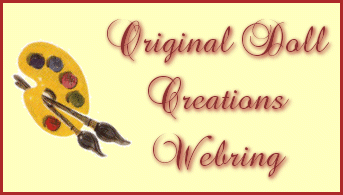 So now that that's out of the way, if you would still like to join fill out the form below!
Please save the graphic above to your OWN server, by right clicking and saving to your own hard drive and uploading to your site. Do not steal my bandwidth, it is illegal and downright mean, besides I want to keep my site online and not get kicked from someone over charging my web host extra money for bandwidth. Thanks!
If you should need any help please email me Here.



Home