Finally I have gotten some time to do this :)
I have been around the internet looking at cartoon doll sites watching them progress and become beautiful doll havens ! So in honor of those who have put their heart time and effort into their sites I salute you lol :)
If you think you know a site that should be nominated for this little honor please email me here. Thanks everyone! Please do not take the graphic below as it is used for my award. Thanks!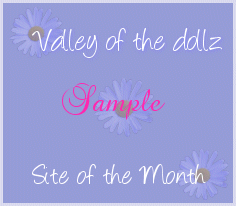 This award is given as a token of appreciation by the Valley of the Dollz Webmistress to the cartoon doll site and its author that makes a contribution to the doll making community, shows creativity, easy navigation and overall enjoyable content! This in no way means that the ones not picked aren't as good, it is only way of letting the site author know that their content and work is appreciated by the webmistress of this site !!

Past Winners!





Home